Need your Broadband Setting Up?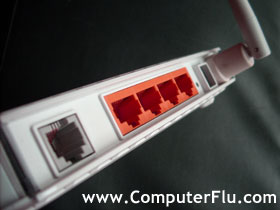 You've received the welcome box
Maybe you've just received your 'welcome box' from your internet service provider (called ISP for short), such as PlusNet or BT, Virgin Media etc, and you want it setting up. I do these all the time. No need to get bothered by filters and cables, get me to do it all for you. Or maybe you are switching from TalkTalk to Sky and need it setting up.
Whether it's a wired router or a wireless one I can do it all. Just make sure that your 'switch on date' has passed, as some ISPs only switch it on at midnight. So if it's scheduled to be ON by the 5th, get me to visit on the 6th.
I know how confusing it can be at first, setting up the wireless kits, that claim on the box 10 minutes and Easy Setup. Trying to sort out your wifi passphrase from your admin password, your hexidecimal from your 64bit decimal key code, and your SSID Channel FM gobbledygook
Wireless is so much more convenient than wires - but Wired is more reliable
Need a printer setting up ? ...
---