More Memory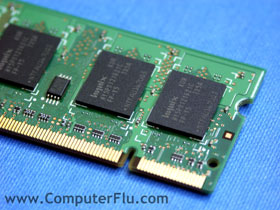 Why you need more memory
The biggest reason most computers are slow is that they have not enough memory (RAM).
I can upgrade your computer by adding more memory chips (see picture). This gives your computer more 'thinking space' allowing it to start up and perform much faster.
Windows XP needs a certain amount of memory (1GB is plenty), and each newer version up to Windows 10, generally needs more memory (RAM). Windows 10 with less than 4GB is never a great experience.
There are many types of memory for laptops and desktop PCs. I keep most types in stock.
Traditionally computers have been sold with not enough Memory as the cost of memory can be quite high, but these days memory chips are one of the most cost effective things you can do to speed up your computer, along with a Solid State Drive (SSD)
Don't let a slow computer get you down.
Need more storage space for all your music photos and documents ? ...
---